Our cordless soldering irons may be our flagship products, but our butane soldering irons are also valuable tools for anyone's toolbox. We currently have three different butane irons, all of which have their uses.
Model #7971 Pro 50 Butane Soldering Iron
Our Pro 50 is great because of its portability. It's so small it could even fit in your pocket! Even with it's smaller size, it still has up to 30 minutes of run time before it needs to be refilled, so it's great for small jobs in the field! It includes a basic conical tip, though we do have several other options available for more specialized applications.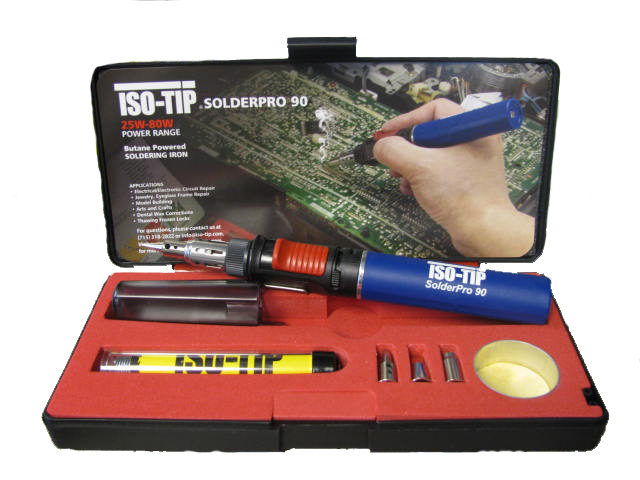 Our Pro 90 kit is a medium sized multi-purpose iron that includes four different tips and a carrying case. It's a great starting iron for those looking to get into soldering due to its versatility and ease of use. It can run up to 55 minutes on a single refill, so it can be used to just about any small to medium sized job.
The Pro 120 is our heaviest duty butane iron, and is built for big jobs where you need to get a lot of run time before having to refill. This iron has an impressive run time of 120 minutes, and is dependable even in rough weather conditions. It comes with a conical tip and torch attachment, but is also compatible with a variety of other tips for specialized uses.
Don't forget to use high quality butane with our butane soldering irons to maximize their lifespan. We recommend Master Appliance Ultratane, but any other high quality butane will also do. As always, be sure to contact us if you've got any questions regarding any of our irons.