Most of us have at least one piece of old furniture that could use some refurbishing. A new coat of paint can make even the most rustic of items look brand new. However, removing the original coat can be a pain. That's where our heat gun comes in!
Paint Removal with Micro-Therm Butane Tool
Click here to purchase our Micro-Therm Heat Gun today!
First, you'll want to clean off the item with a damp cloth. Any dirt left behind could burn when you apply heat, which would create a lot of unnecessary work.
Next, simply apply heat to the paint until it starts bubbling, making sure to move it up and down like a paint roller. You can then use a scraper to carefully remove the paint. Make sure to keep the tool around four inches away from the surface of the furniture item. Holding it any closer could cause damage. Be sure to also scrape the paint into a container of some sort so it doesn't get on your floor. If this happens, you may find yourself having to scrape it off a second time. If any specks of paint remain that your scraper can't seem to remove, try using steel wool to remove them.
After removing all the old paint, simply apply a fresh coat and your furniture item will look good as new. Check out an example of this project here. This butane tool can also be used to remove other things, such as bumper stickers, wallpaper, and flooring.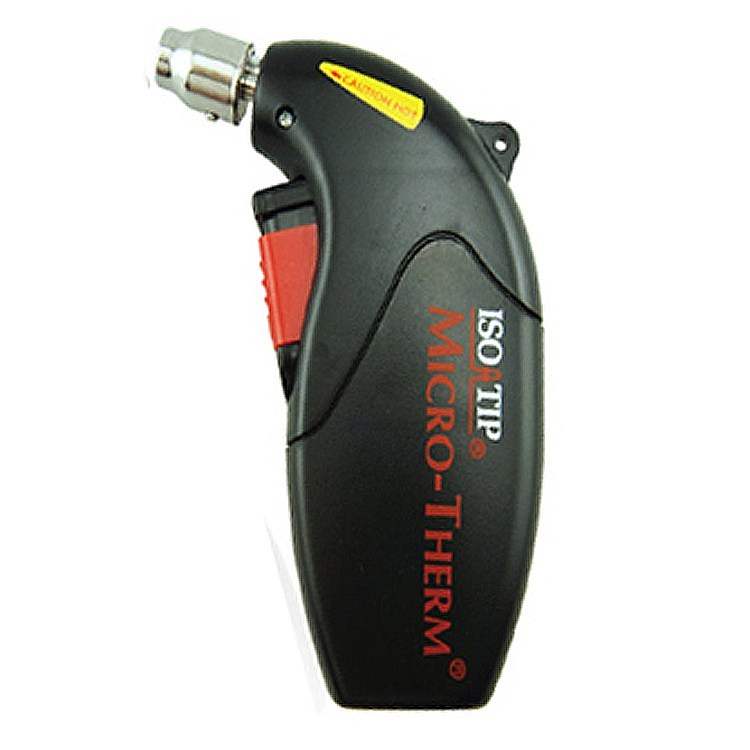 Model #7975 Micro-Therm Heat Gun
As we've mentioned before, the Micro-Therm is a pretty handy tool. People are often surprised by just how versatile it is, so we thought we would share another one of its many uses with you.
This butane-powered, Piezo ignition, flame less heat gun is ideal for general heating and drying applications. The Smart Heat Micro-Therm can be used to activate adhesives and potting compounds, bend and form plastics and plastic laminates, bend PVC, preheat flux, remove windshield caulking, install heat shrink, tubing and solder-filled connections, manipulate molded plastic parts, stretch and repair vinyls and thaw frozen locks. If you want to eliminate flare or otherwise smooth out rough edges or parting lines then this small torch is perfect for you. The torch features a comfortable palm grip and trigger with locking mechanism, in addition to an automatic shut-off.
Click here to check out our Micro-Therm Heat Gun today!