I recently received an email from a customer who gave me a link to a video showing a guitar player using our Silver Bearing Solder Paste. The author of the video explains that a fret on his guitar was damaged when his guitar fell and hit a mic stand. The damage to his fret caused the g-string on his guitar to give off a pinging sound when strummed, which is obviously not something you want. He needed his guitar the following day, so he didn't have time to take it in for repairs. He had the clever idea of using silver bearing solder paste to smooth his fret back out and get his guitar back in playable condition. You can find the video with his full explanation here.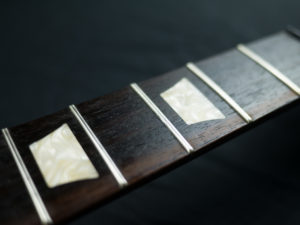 Once he finished with his repair his guitar was ready to play. He says that this repair lasted him 6 months, after which he simply spent another 15 minutes doing the same repair. In another 6 months he decided to level and re-crown all the frets. I was impressed by the author's ingenuity and resourcefulness in solving his problem. My only critique is that he wasn't using our model 7700 soldering iron (nobody's perfect). Our solder paste is designed to be used on circuit boards and wires, but it seems that it's even more versatile than I thought!
For more information about our Silver Solder Paste, click here to visit the product page!
To learn more about our cordless soldering irons and more, visit our shop!
Do you have any interesting or unique uses for silver bearing solder paste? Feel free to share them or contact us.